18Feb
Venice, February 24, 2022 - Silence, the magic begins. The show "Nebula Solaris" returns to the Venice Arsenal today, which until the end of the Carnival, Tuesday 1 March, will enchant the audience of "Remember the Future". Nineteen extraordinary artists on the international scene stage a show with a strong artistic identity that aims to warm and drag the spectators into a fantastic world.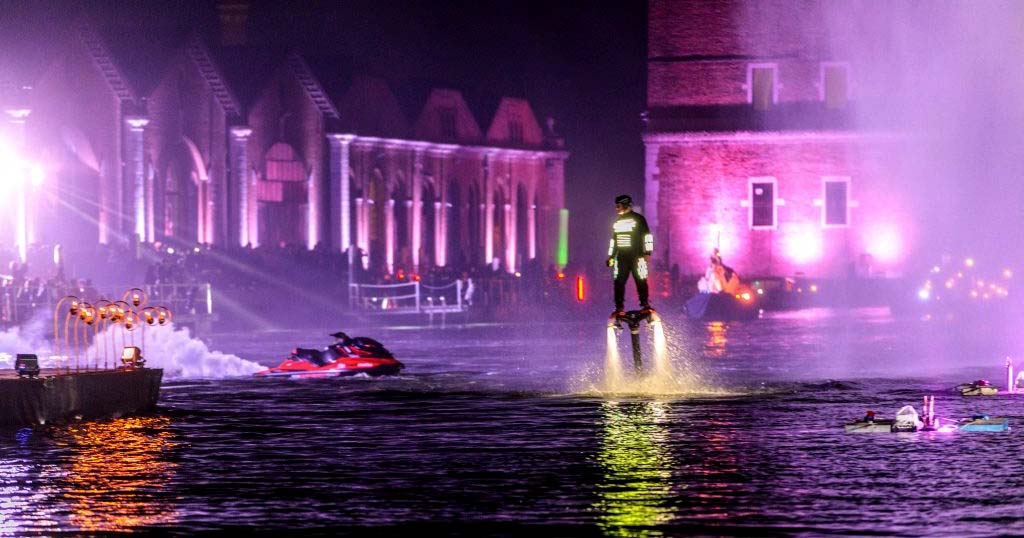 In the symbolic place of the illustrious history of the Serenissima Republic, made up of men, ships and the sea, the Compagnia Opera Fiammae directed by Anton Bonura and through the best artists of fire, contemporary circus, theater and the arts of movement, gives life to a show, lasting 30 minutes, which is a tribute to the 1600 years since the founding of Venice, commemorating its history but also creating a bridge between past and future as the guiding thread of this edition of Carnival 2022 wants. "Remember the Future", signed by the artistic director Massimo Checchetto.
On the suggestive water stage of the Arsenale there are: Anton Bonura (Lumi - The White Dragon), founder of Opera Fiammae, Lucie Vendlova and Tatiana Foschi, Placido Militano (Spain), Compagnie Ilotopie (France), Daniela Zaharieva Momcheva (Bulgaria), Gambeinspalla Teatro, Thomas Goodman, Danza Collettivo Emergency, Companie Pyronix (Belgium) and Simon Desira (Flyboard Malta) in an imaginative scenario with performances that involve the audience, dragging them into a daydream: bubbles with fire, smoky bubbles, projections that become forms of art, characters who gently accompany the flames in a reverent dance, playing with sounds and lights in the elements that draw the dreamy gaze of this vision. And then the manipulation of the flames through simple and ancestral gestures, which tell the past of the city and project it towards an imaginary future represented by an exciting performance of a Flyboard pilot who, like a superhero, is able to take your breath away with his evolutions. over ten meters above the water.
The boats that flow on the calm waters of the Arsenale dock host the artists of the flames, the beating heart and full of sparks of the event, but also timeless creatures, a Leonardian bridge with a verticalist to symbolize the precariousness of the present. And then water games and light projections, curated by the skilful technique of Viorica and Antica Proietteria, which from nothing bring out from the water and shape the Rialto bridge, the Basilica of San Marco, dancers, the lion of San Marco, the wheel of time that passes and that has brought Venice to be what it is today.
Nebula Solaris will be repeated twice a day until Tuesday 1 March with two daily reruns at 6.45pm and 9.15pm.
We thank the Italian Navy for their collaboration.